Simply apply sparingly and rub into your Cotton Duck products to re-proof against rain and spray
Warm the tin in warm water first to soften.
To finish use a hot hair dryer to smooth the wax out soak in to the canvas
Simply apply sparingly and rub into your Cotton Duck products to re-proof against rain and spray
Warm the tin in warm water first to soften.
To finish use a hot hair dryer to smooth the wax out soak in to the canvas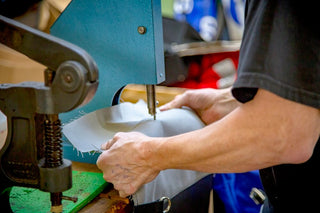 Quality Manufacturing
Carradice's commitment to making quality bike bags begins with meticulous craftsmanship in their UK workshop. They use robust, locally sourced materials like waxed cotton duck, delivering durability and water resistance. Expert artisans hand-cut and stitch each bag, ensuring precision and longevity. Rigorous quality control guarantees that every Carradice bag meets the highest standards and is ready to take on whatever journeys our customers have in store..
Handmade in the UK
Our bags are carefully made by our skilled team and put to the test in Nelson. We oversee every part of making them to make sure they meet our high standards and are fit to leave the factory.
Lifetime Warranty
We believe in our products so much that we offer a lifetime guarantee against all defects in materials and workmanship if there's an issue, we've got it covered and will make it right.
Shipping from UK & EU
When you shop with us, your order is sent directly from our UK-based factory where it was crafted. All EU orders are now sent from our EU warehouse in France. All orders are shipped by tracked mail or courier.