Preserving a legacy, creating a culture, Since 1932
Carradice has been making bike bags in England since 1932. We have a heritage that goes back through three generations, and craft expertise that has been lost elsewhere in manufacture. We are so proud of our bags, the maker hand-signs every one.

David Chadwick is the current custodian of the family business and is very hands-on when it comes to testing new products. He takes all the prototypes out on test rides which are then modified and tested again until the new product is perfect. David is also passionate about manufacturing in Britain: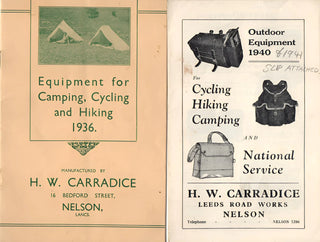 "It's so important for me to keep investing in manufacturing in Nelson, rather than selling out to the Far East. Sewing cotton duck is highly skilled work and our team here take such pride in their work. The bags evolve over time as we regularly review, tweak and improve the designs, and it's all driven by real feedback from real cyclists. In fact, the close integration of R&D is a real benefit and gives us a fast turnaround on new product development.
"We're constantly amazed by the passion for Carradice bags, so are very careful not tarnish the heritage of the Carradice brand. I promise we'll be keeping the classic, traditional look of the cotton duck bags, for the growing number of appreciative cyclists around the world, for years to come."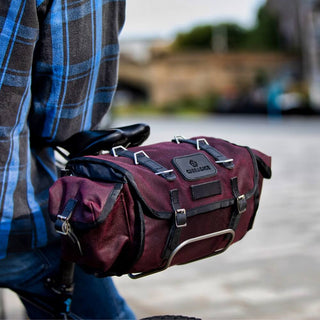 Our Vision is clear
It's clear to most people who own Carradice bags that there is a whole lot of biking passion that goes into their design and manufacture. We pride ourselves on having a bag for every bike and every use – and David has every bike to go with the bags, from folding bikes, through touring and road bikes, to full-suss mountain bikes and his latest addition a rigid 29er mountain bike with Alfine hub gears.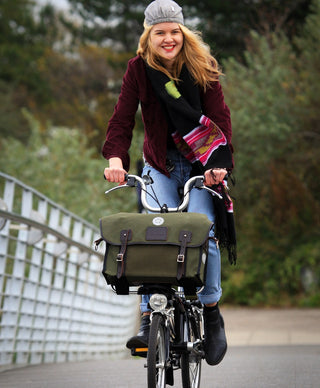 Carradice Super C
It all started when David's parents, Neville and Sheila, took over the company from Wilf Carradice, the founder, in the 1970's. They would get David, his brothers and sister to pose with their bikes for brochure photographs and man the stands at trade shows – the whole family were very keen cyclists and involved in the business.

So, when they decided it was time for them to retire, David chose to step away from his corporate job to take on the challenge of running the family business and bring his young family back up North. That was 28 years ago, and the business has flourished under his enthusiastic management, with backup from his wife Janet.
His desire to innovate has seen Carradice's product range extend to seatpost mounted bags with David's own highly-rated SQR quick release mechanism and the new seam welded waterproof CarraDry bags. New bag ideas are test-ridden by David, staff, family and friends; comments lead to new prototypes and more test runs. He exhibits new products and prototypes at all the major shows to gauge cyclists' reaction to them and also get feedback on the bags they are using – and comes back to the workshop full of new ideas and improvements.

Carradice formed a strategic alliance with the folks at Aquapac in 2021, in a move to share manufacturing and expertise with another great British brand. Aquapac has been manufacturing specialist waterproof cases and bags since 1983 (relative newcomers by Carradice standards!) and sell in over 60 countries to professional and sports users. This new bond will strengthen both brands and allow us to use the best of each others' knowledge and expertise to push forward.