DUXBACK RAINWEAR - is designed specifically to suit the needs of cyclists. It is made from lightweight, reproof able waxed cotton which is waterproof, noiseless and long lasting. All feature taped seams and reflective strips for added night safety. Packs away into a handy drawstring bag for compact, easy carrying. Hand-crafted in our factory in Nelson, each Poncho is signed by its maker.   Standard Measurements: Front  97cm, Back 85cm Super Measurements: Front 110cm, Back 98cm
DUXBACK RAINWEAR - is designed specifically to suit the needs of cyclists. It is made from lightweight, reproof able waxed cotton which is waterproof, noiseless and long lasting. All feature taped seams and reflective strips for added night safety. Packs away into a handy drawstring bag for compact, easy carrying. Hand-crafted in our factory in Nelson, each Poncho is signed by its maker.   Standard Measurements: Front  97cm, Back 85cm Super Measurements: Front 110cm, Back 98cm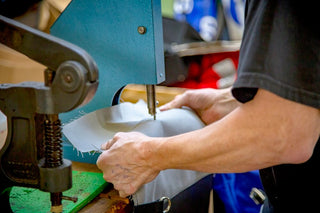 Quality Manufacturing
Carradice's commitment to making quality bike bags begins with meticulous craftsmanship in their UK workshop. They use robust, locally sourced materials like waxed cotton duck, delivering durability and water resistance. Expert artisans hand-cut and stitch each bag, ensuring precision and longevity. Rigorous quality control guarantees that every Carradice bag meets the highest standards and is ready to take on whatever journeys our customers have in store..
Handmade in the UK
Our bags are carefully made by our skilled team and put to the test in Nelson. We oversee every part of making them to make sure they meet our high standards and are fit to leave the factory.
Lifetime Warranty
We believe in our products so much that we offer a lifetime guarantee against all defects in materials and workmanship if there's an issue, we've got it covered and will make it right.
Shipping from UK & EU
When you shop with us, your order is sent directly from our UK-based factory where it was crafted. All EU orders are now sent from our EU warehouse in France. All orders are shipped by tracked mail or courier.
Review
Great bit of kit, well made by Sue as signed by
Rolls up easily and stores nice and small into a bag about 10cm / 4" in diameter and 25cm / 10" long
I somehow managed to mess up my online order and ordered the wrong size
Fearing AI robots, multiple choice phone options common place with online buying to try and change the size after order placed I was going to just except my error
Thought twice and gave it a go
Well no need to jump through hoops here, I just replied to the order confirmation email and hey presto a real human called Charlie replied immediately and sorted out my mistake no dramas and even kept me notified as each step was completed Carradice side
British manufacturing and service above and beyond the call of duty
Many thanks
Review
The best way to describe this product is that it's a cycle cape akin to a wax jacket for cyclists.
On that note it does require some care in that the wax properties wane over time. Like a wax jacket therefore it does require re-waxing every now and again. Never fear though as it's an easy task to apply the wax.
Another bonus is the weight of the waxed cotton - this means that under most conditions you don't have to use the tapes to secure it to the bike - it stays nicely on you and the bike.
Great that the tapes are available should it be blowing a gale.
A slight drawback is the colour - a very nice green ,just like wax country jackets ,only this is a cycling accessory and could do with a few hi-viz luminous stripes on the back so you're more visible in the daylight/rain.
There are a couple of of night time reflective patches which are fine.
Another point to note is that this is a relatively bulky and heavy poncho to carry in it's pouch. But it keeps you super dry .
All in all a very superior product that , with care, will last a lifetime.
I ought to point out as well - this is a generic one I should add, that all cycle capes cover your handle bars. At night this could be covering your front light. So a helmet light bracket is required.
Review
I peice of wear is literally the bees knees. I used if for commutting to touring and there is nothing better to keep you dry.
Review
I have had one of these for years. The BEST piece of bike kit I have ever owned. I used this for commuting in all weathers and remain bone dry.
Air can circulate so no sweating as you would with plastic jackets and trousers.
Downside? - lack of high viz. I have added stick on high viz stripes to augment the single line of silver reflective as supplied.
Review
What a product! It may looks a little strange but:
1). Rain literally runs off it.
2). Because the underside is 'open' you don't sweat from the inside like you do with even the best gore-tex style jackets.
3) I have mudguards do there is no spray from the road.
4) Even on cold, wet days warm air circulates
around underneath keeping you warm.
In summary, even in the most ridiculous rainstorms I have been 100% dry and warm. The only downside is that it does make you look like an extra from the first half hour of Saving Private Ryan and you'd friends may take the mickey, but you'll be laughing all the way to the bank as it may be the last cycling coat you ever need to buy.