Two Sizes

Expedition: Suitable for Cadet, Nelson, Nelson Longflap, Camper Longflap and Super C saddlebags Clearance required from rear wheel to saddle wires is 21cm Sport: Suitable for Barley, Junior, Pendle, Lowsaddle Longflap and Super C Audax saddlebags. Clearance required from rear wheel to saddle wires is 18cm
Load
Maximum load - 10kg
Fit Guide
Originals:
CarraDry:
Barley
Bagman Sport
Carradry Saddlebag
Bagman Sport
Cadet
Bagman Expedition
Camper Longlap
Bagman Expedition
College
Bagman Expedition
Super C:
Junior
Bagman Sport
Super C Audax
Bagman Sport
Lowsaddle Longflap
Bagman Sport
Super C Saddlebag
Bagman Expedition
Nelson
Bagman Expedition
Nelson Longflap
Bagman Expedition
Pendle
Bagman Sport
Two Sizes

Expedition: Suitable for Cadet, Nelson, Nelson Longflap, Camper Longflap and Super C saddlebags Clearance required from rear wheel to saddle wires is 21cm Sport: Suitable for Barley, Junior, Pendle, Lowsaddle Longflap and Super C Audax saddlebags. Clearance required from rear wheel to saddle wires is 18cm
Load
Maximum load - 10kg
Fit Guide
Originals:
CarraDry:
Barley
Bagman Sport
Carradry Saddlebag
Bagman Sport
Cadet
Bagman Expedition
Camper Longlap
Bagman Expedition
College
Bagman Expedition
Super C:
Junior
Bagman Sport
Super C Audax
Bagman Sport
Lowsaddle Longflap
Bagman Sport
Super C Saddlebag
Bagman Expedition
Nelson
Bagman Expedition
Nelson Longflap
Bagman Expedition
Pendle
Bagman Sport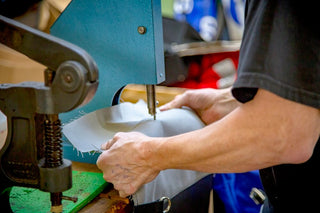 Quality Manufacturing
Carradice's commitment to making quality bike bags begins with meticulous craftsmanship in their UK workshop. They use robust, locally sourced materials like waxed cotton duck, delivering durability and water resistance. Expert artisans hand-cut and stitch each bag, ensuring precision and longevity. Rigorous quality control guarantees that every Carradice bag meets the highest standards and is ready to take on whatever journeys our customers have in store..
Handmade in the UK
Our bags are carefully made by our skilled team and put to the test in Nelson. We oversee every part of making them to make sure they meet our high standards and are fit to leave the factory.
Lifetime Warranty
We believe in our products so much that we offer a lifetime guarantee against all defects in materials and workmanship if there's an issue, we've got it covered and will make it right.
Shipping from UK & EU
When you shop with us, your order is sent directly from our UK-based factory where it was crafted. All EU orders are now sent from our EU warehouse in France. All orders are shipped by tracked mail or courier.
Review
Excellent rack option. The support keeps your saddlebag secure and in a good position, the quick release works pretty well, although can be a fiddle with a full large bag.
As stated above, when I've used this with a fully loaded Camper Longflaps, I've also added the support struts to the seatstays. This works well and spreads the load.
My Bagman QR expedition is however fine on its own for normal loads, normally with a Lowsaddle longflap bag.
Over time I've lost one of the rubber grommets from the quick release and staying on top of the blot torque is important due to the various stresses the mount endures.
A good piece of kit.
Review
I took this along with my loaded Camper Longflap on the South Downs Way for a three day adventure. The rough terrain was hard and the support did bounce a little due to the heavy weight of the bag.
However, both bag, support and myself made it to the end! I have since added the stabiliser struts because on heavily rutted tracks the bag sometimes hit the rear tyre. This should make the whole setup rock solid. A great product. Highly recommended!
Review
I used this on my gravel bike on a largely off-road 5 day expedition. I did use the support struts as my bag was full to near capacity (Nelson Longflap). It kept my bag extremely stable, no wobble whatsoever and I was on some seriously bumpy and rough terrain. I decided to invest in the support struts as my bag was so heavy and the whole system worked brilliantly.
Review
Great holder! I really like keeping the bag off the back of my legs. I have the expedition rack paired with a camper longflap.
One of the quick release pins did fall out on the second day and it is a not so quick release now :/ should have read reviews from other sites before buying. If you buy, I'd encourage putting thread lock on the little pins to keep them where they belong!